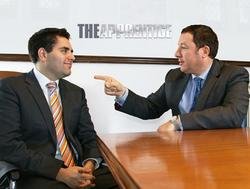 Those of us who were hoping that Apprentice star Stuart Baggs wouldn't find his way back into the technology industry may be wishing for his return after all, as fellow contestant Alex Epstein has now popped up at Masternaut, a Leeds-based satellite tracking firm.
Alex - billed on the show as an unemployed head of communications - has now returned to his former employer to take up the role of marketing consultant.
He counted among his successes the creation of the Boozy Banger and the Cuuli, a combination beach towel and beer cooler, which clearly impressed Masternaut MD Martin Port (pictured above with Alex) enough to rehire his former protege.
"Sugar was completely wrong in his evaluation of Alex and has missed out on the opportunity of hiring a highly talented, skilled marketer," said Port.
But I do worry that in the rush for column inches, Masternaut may have forgotten about some of Alex's less inspired moments...
Take for instance, the bizarre scenes in Manchester's Trafford Centre, where he was seen haranguing two bemused teenage boys to buy a sweater made of discarded suit sleeves.
Or who can forget The Germinator, where he made the bizarre choice to employ a small boy to advertise a toxic cleaning product that specifically instructed users to keep out of reach of children?
If that's skilled marketing I dread to think what amateur marketing looks like, and after that performance it was Lord Arnold Sugar saying 'hasta la vista.'
In fairness to Alex, he was one of those Apprentice contestants who was really far too nice to survive very long, and I'm afraid he was always going to be toast. Hopefully he can bring a little more savoir faire to his new role.
Of course, a true cynic might note that leaving his former firm to appear on The Apprentice and then rejoining it later on is actually a stroke of marketing genius (after all,have you heard of Masternaut before?).
On an Apprentice-related note, news also reaches me that from next year, Lord Sugar will be taking a pass on actually hiring the winner of the Apprentice, instead giving them £250,000 to bugger off.
This was first published in November 2010