The IT industry's annual fundraising event in aid of youth homelessness, Byte Night, looks set to smash its registration targets by a substantial margin, after seeing over 970 people sign up to participate.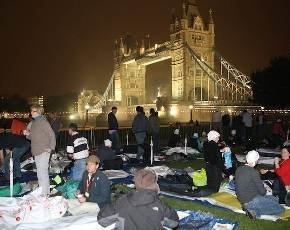 With the number of people taking part up already up over 40% on last year, it also looks like 2012 will be a record year in terms of fundraising, say organisers.
The yearly sleep-out, which raises money for Action for Children, will take place on 5 October in Belfast, Cambridge, London, Edinburgh and the Thames Valley. Founded by Thomas Bowman Stephenson as a home for London's street children over 140 years ago, the charity now supports some of the most vulnerable and neglected children and young people in Britain, through over 480 projects across the country.
"We have surpassed all expectations and now the challenge is to make sure we capitalise on this opportunity and smash our fundraising target of £5m since the event began in 1998," said event founder Ken Deeks.
"It is reflective of the dynamism of the UK tech industry, which like us is creating exciting new opportunities and recruiting more and more talent that wants to make a difference."
Channel names signed up already include Jason Evans, MD of ShoreTel partner Response Data Communications; Tome Ray, operations head at cloud MSP Cloudreach; BT Global Services government and health CIO Clay van Doren and Joe Bradley, executive director at software and services provider Northgate Public Services.